Leisure Activities
Flying
Flight training
It was a long haul - 3 years in total but only 4 lessons in the first year was not much help. This was due in main to booking lessons from mid-morning to mid-afternoon - generally the more turbulent weather periods - and the fact that weather was generally poor in 2001.
I moved the lessons into a higher gear from June 2002, booking lessons early or late in the day to benefit from the better weather conditions.
By September 2003 (after my first solo) I was getting close to the GFT so I pushed the training into top gear for the remainder of the year. Progress from this point was fairly quick, due in part to some excellent weather conditions in late-November and December, plus some outstanding holiday.
I finally acheived the NPPL (National Private Pilots Licence) for Microlights in February 2004.
Total tuition costs, that includes ground school and exams plus flying lessons in the school and my own aircraft, amount to just short of £4000 - substantially more than originally budgeted and not the cheapest of hobbies!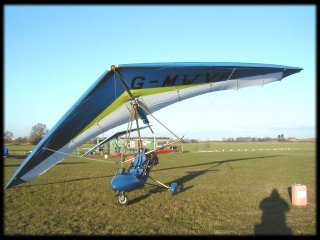 My Pegasus XL 447
---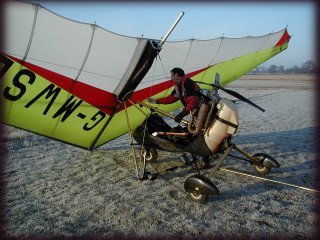 February 2001
Preparing for the first lesson with instructor Nick Esterson
---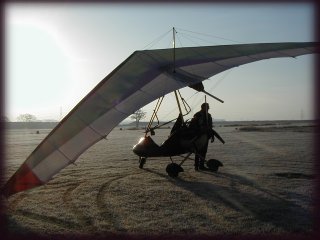 Nick assessing the weather prior to my first lesson - just as well, it closed in completely within 5 minutes of this photo.
---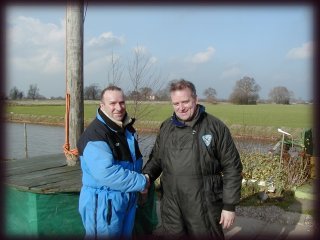 February 16 2004
with examiner Brian Palfreyman after passing the GFT.
---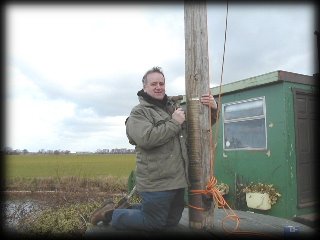 Nailing the pass plate to the Pole of Fame
---
After gaining a pilots licence you are are permitted to take passengers, here is a selection of my intrepid human ballast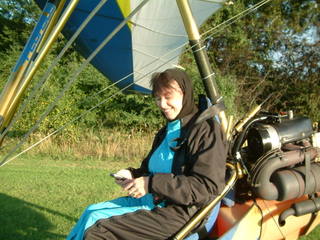 Ginny (my beautiful wife)
---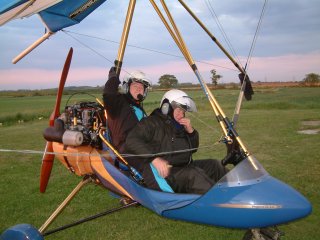 Dick
---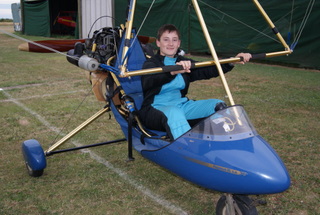 Matthew
---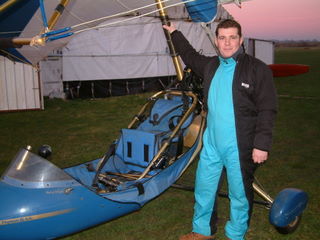 Craig (almost night when we returned)
---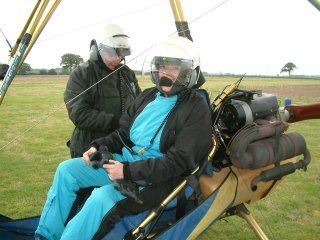 Alison
---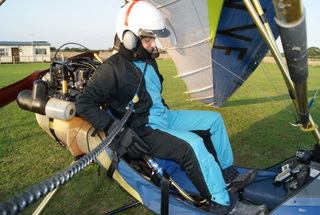 Aled
---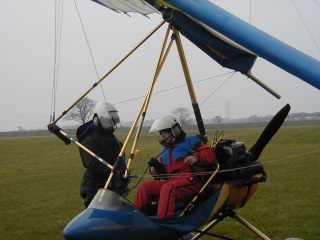 Kelly (had a most alarming flight due to a local cloudburst)
---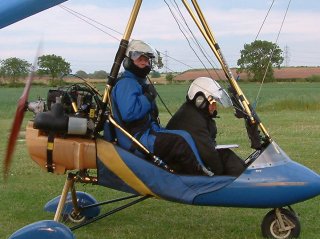 George
---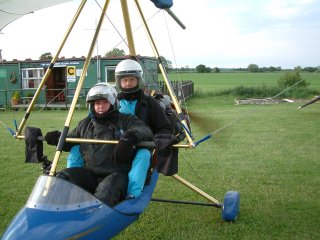 Kev
---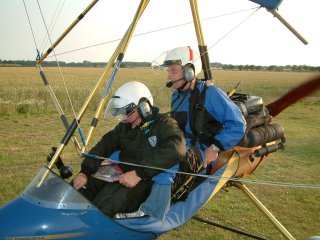 Graham
---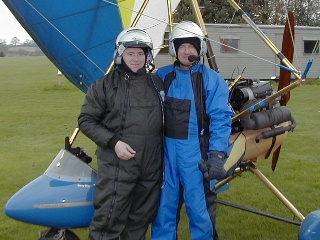 Mick
---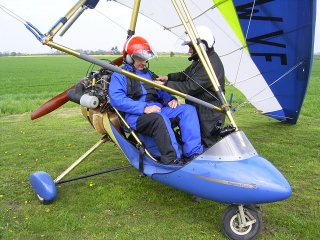 Bolton (Pete)
---
Timeline to GFT - Flight Log of Training
P.U.T = Pilot under Training P.U.C = Pilot in Command
Date
Duration
Instructor
Status
Exercises
02 Feb 2001
1:00
Nick Esterson
P.U.T
3,4,6
30 Aug 2001
0:35
Mick Moulai
P.U.T
4,5
01 Sep 2001
1:00
Mick Moulai
P.U.T
4,5
20 Dec 2001
0:40
Nick Esterson
P.U.T
4,6,7,8
04 Jun 2002
0:50
Mick Shea
P.U.T
6
11 Jun 2002
1:00
Mick Shea
P.U.T
7,8
25 Jun 2002
1:00
Mick Shea
P.U.T
7,8
23 Jul 2002
1:00
Mick Shea
P.U.T
6,7,8
28 Jul 2002
0:55
Mick Shea
P.U.T
9a
31 Jul 2002
1:00
Mick Shea
P.U.T
9b
02 Aug 2002
1:00
Mick Shea
P.U.T
9b
06 Aug 2002
0:35
Mick Shea
P.U.T
10ab
Subtotal hours
10:35
14 Aug 2002
1:00
Mick Shea
P.U.T
12
16 Aug 2002
1:00
Mick Shea
P.U.T
12,13
20 Aug 2002
0:50
Mick Shea
P.U.T
7,8,9a
21 Aug 2002
1:00
Mick Shea
P.U.T
16a
28 Aug 2002
0:40
Mick Shea
P.U.T
12,13
10 Sep 2002
0:55
Mick Shea
P.U.T
16a
11 Sep 2002
0:35
Mick Shea
P.U.T
16a
17 Sep 2002
1:00
Mick Shea
P.U.T
12,13
20 Sep 2002
1:00
Mick Shea
P.U.T
12,13
01 Oct 2002
1:00
Mick Shea
P.U.T
12,13
20 Oct 2002
0:40
Mick Shea
P.U.T
12,13
02 Nov 2002
1:00
Mick Shea
P.U.T
16a
Subtotal hours
21:15
03 Dec 2002
0:50
Mick Shea
P.U.T
12,13,16a
05 Dec 2002
0:35
Mick Shea
P.U.T
12,13
17 Dec 2002
1:00
Mick Shea
P.U.T
12,13
18 Dec 2002
Pass Air Law exam
19 Dec 2002
0:45
Mick Shea
P.U.T
12,13
09 Jan 2003
1:00
Mick Shea
P.U.T
16a
18 Jan 2003
00:50
Helen Harknett
P.U.T
12,13
23 Jan 2003
First outing in G-MWVF (highlighted in this colour)
23 Jan 2003
00:55
Mick Shea
P.U.T
12,13
2 Mar 2003
00:45
Helen Harknett
P.U.T
12,13,16a
18 Mar 2003
01:00
Mick Shea
P.U.T
12,13, 16a
20 Mar 2003
01:00
Mick Shea
P.U.T
12,13
27 Mar 2003
00:55
Mick Shea
P.U.T
12,13
03 Apr 2003
00:50
Mick Shea
P.U.T
12,13,16a
Subtotal hours
31:30
08 Apr 2003
00:20
Mick Shea
P.U.T
12,13
15 Apr 2003
01:00
Mick Shea
P.U.T
12,13
30 Apr 2002
Pass Navigation exam
28 May 2003
01:00
Rob Ware
P.U.T
12,13
19 Jun 2003
01:00
Mick Shea
P.U.T
12,13
24 Jun 2003
01:00
Mick Shea
P.U.T
12,13
13 Jul 2003
00:35
Mick Shea
P.U.T
12,13
16 Jul 2003
00:50
Mick Shea
P.U.T
16a,12,13
23 Aug 2003
00:45
Mick Shea
P.U.T
12,13
27 Aug 2003
00:35
Mick Shea
P.U.T
16a,12,13
31 Aug 2003
01:00
Mick Shea
P.U.T
16a
31 Aug 2003
01:00
Mick Shea
P.U.T
12,13
2 Sept 2003
01:05
Mick Shea
P.U.T
12,13
03 Sept 2003
01:00
Mick Shea
P.U.T
12,13
7 Sept 2003
01:00
Mick Shea
P.U.T
16a,12,13
14 Sept 2003
01:00
Mick Shea
P.U.T
12,13
Subtotal hours
43:45
16 Sept 2003
01:15
Rob Ware
P.U.T
12,13
21 Sept 2003
01:00
Rob Ware
P.U.T
12,13,16a
24 Sept 2003
01:00
Mick Shea
P.U.T
12,13
24 Sept 2003
00:10
P.I.C
17a
30 Sept 2003
00:45
Mick Shea
P.U.T
12,13
21 Oct 2003
00:30
Rob Ware
P.U.T
12,13
26 Oct 2003
00:30
Rob Ware
P.U.T
12,13
26 Oct 2003
00:25
Rob Ware
P.I.C
17b
Subtotal hours
49:10 dual 0:35 solo
1 Nov 2003
00:25
Rob Ware
P.U.T
12,13,16a
1 Nov 2003
00:30
Rob Ware
P.I.C
17b
6 Nov 2003
Pass Aircraft General (Part 1) exam
12 Nov 2003
00:35
Mick Shea
P.U.T
12,13
12 Nov 2003
Pass Meterology exam
12 Nov 2003
Pass Human Performance Limitations
15 Nov 2003
00:30
Mick Shea
P.I.C
17b
16 Nov 2003
01:00
Mick Shea
P.I.C
17b
16 Nov 2003
01:10
Rob Ware
P.U.T
18
23 Nov 2003
01:15
Rob Ware
P.I.C
17b
23 Nov 2003
01:15
Helen Harknett
P.U.T
18
27 Nov 2003
02:25
Helen Harknett
P.U.T
18
27 Nov 2003
01:00
Helen Harknett
P.I.C
18
Subtotal hours
52:35 dual 4:50 solo
28 Nov 2003
03:20
P.I.C
18
2 Dec 2003
00:50
Helen Harknett
P.I.C
17b
5 Dec 2003
01:45
P.I.C
18
5 Dec 2003
00:35
Helen Harknett
P.I.C
17b
7 Dec 2003
01:10
Mick Shea
P.I.C
17b
9 Dec 2003
00:55
Mick Shea
P.I.C
17b
16 Dec 2003
01:00
Helen Harknett
P.U.T
14
16 Nov 2003
01:00
Helen Harknett
P.U.T
15
17 Dec 2003
01:00
Helen Harknett
P.U.T
17c,16b
17 Dec 2003
02:00
Helen Harknett
P.I.C
17b
02 Jan 2004
00:50
Helen Harknett
P.I.C
17b
4 Jan 2004
00:55
Helen Harknett
P.I.C
17b
18 Jan 2004
02:10
Mick Shea
P.I.C
17b
25 Jan 2004
01:30
Mick Shea
P.I.C
17b
Subtotal hours
55:35 dual 20:50 solo
15 Feb 2004
01:00
Rob Ware
P.I.C
17b
16 Feb 2004
GFT passed
Brian Palfreyman
P.U.T
GFT
Key to exercises:
| | |
| --- | --- |
| 4 | Effects of Controls |
| 5 | Taxiing |
| 6 | Straight & Level Flight |
| 7 | Climbing |
| 8 | Descending |
| 9a,b | Turning (climbing and descending turns) 30 degree bank |
| 10a | Slow flight |
| 10b | Stalling |
| 11 | Spin Awareness |
| 12 | Taking Off |
| 13 | The circuit - final approach and landing |
| 14 | Advanced turning (up to 60 degree bank) |
| 15 | Unusual attitudes |
| 16a | Forced Landing |
| 16b | Operation at minimum level |
| 17a | First solo circuit |
| 17b | Solo circuit, local area, general flying |
| 17c | Dual revision for GFT (General Flying Test) |
| 18 | Pilot navigation |