General advice and information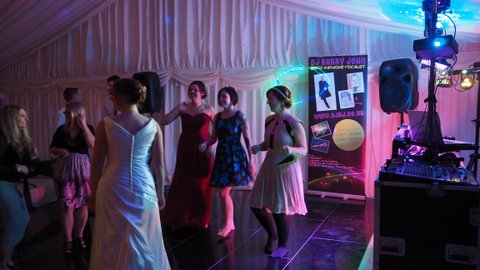 The Booker`s responsibility
Determine the age range of your guests and ensure the entertainer has a range of appropriate music.
Don't pay extra for a lightshow, this should be standard.
Be sure the appropriate service has been agreed e.g.: Disco, Karaoke or both.
Ensure contact can be made with the DJ at all times.
Ensure that you have confirmation and that contingency plans for unexpected events exist.
If possible arrange to see the DJ perform somewhere. If the DJ cannot give you a venue where he can be seen he may not have many bookings and you need to ask why.
Booking Barry
After agreeing details a confirmation will be posted to the bookers address − this will contain the times, location and cost of hiring your entertainment package. The confirmation features a tear−off slip which needs to be sent back within two weeks to confirm acceptance of the details.
Prompt arrival
Prompt arrival at your party is assured and will be around 6.45pm unless otherwise arranged.
At certain places eg.Drayton Manor, Barry will set up the equipment during the morning in order to minimise inconvenience to guests. Equipment set−up time is between 30 and 45 minutes and background music is on by 7.30 at the latest with the start of the show proper at around 8pm finishing at usually no later than 11.45pm − unless exceptional times have been booked.
Music and style
A good DJ will assess the audience from the moment of arrival, noting the mix of age ranges and disposition of your guests. He will have already sussed most of the audience by the time the music starts.
There is lots of music conducive to starting the dancing off − there is no hard and fast rule about it, simply knowledge based on experience. Imagine Freda Payne's "Band Of Gold" for the start of a wedding reception and the line "after you'd gone all that's left is a band of gold" being heard within the first few seconds; perfect for a divorce maybe but hardly for a happy celebration. In a similar context there is a wealth of music that is simply not end−of−evening material; one would not finish a wedding reception evening for example with Steppenwolf's heavy rock number "Born To Be Wild" (unless it was for a chapter of Hell's Angels of course).
Yes, it is easy to stand in the corner and play music, however, knowing how to keep the dance−floor full whilst entertaining the audience with good music and sensible patter requires a unique insight only acquired by experienced DJs − well−qualified entertainers who have to know which sounds to play and in what mix and sequence. As I have stated earlier there is no hard, fast rule that one can follow to supply an evening of music, although there are lots of small rules that a good DJ uses to help determine what to play. No two evenings are the same musically although they may follow similar musical patterns. It is this subtle knowledge and fine−tuning of musical presentation that will result in an excellent evenings entertainment.
DJs are not all the same. As they vary in size and age, so do they vary in good and bad quality. A good DJ adjusts his/her presentation according to the event they are hosting, controlling his use of the microphone with skill and common sense. Imagine the variation in skills needed between a high profile civic ball and a 21st party.
18th Birthday parties.
Many venues refuse to have 18th birthday parties due to the trouble often experienced. Many DJs also refuse to play 18ths.
A strong adult presence must be maintained throughout the whole course of the evening. Too many youngsters, all drinking alcohol, most of whom cannot handle the booze, is a perfect concoction for hand−grenades of sausage rolls, beef sandwiches, pickled onions and chicken legs, not to mention the damaged toilets, huey everywhere, lipstick all over the walls, beer all over the dancefloor and broken glasses. This sort of behaviour has been seen first−hand. All too often parents arrange these parties and then simply dump their kids off and go elsewhere. One cannot blame the venue hirers and DJs for avoiding these parties &minus after all, often the parents don&apost want to be there either! It is suggested parents wait until the 21st.
Weddings.
Why, when the cost of a wedding runs into thousands of pounds, does a booker look around for a cheap DJ? The responsibility for a successful wedding reception rests ultimately with the entertainment. Most weddings are remembered for the standard of entertainment and it is vital to get it right so don't cost−cut in this area. Expect to pay £200 or more for a local DJ; question the music to be played, ask about the equipment being used and ensure confirmation is supplied in writing. Barry has lost count of the number of bookers who have asked for his services the same day because some bloke they know at work offered to do it for 50 quid has just let them down − probably in preference of a greater fee elsewhere.
Venue advice
So you want the disco in your own home
Think twice. Do you realise how much space a full disco and lightshow requires ? Probably not. The ceilings of most homes are too low to accommodate speakers and lighting gantries. The DJ also needs somewhere to put his/her stuff, probably a nearby table − this will surely get scratched with boxes etc. In the garden − not recommended; as evening falls moisture condenses on all equipment and cables that have assumed the ambient temperature − this includes electrical cables and plugs − dangerous, even if inside a marquee. It also gets very cool as the evening wears on and guests will desert the garden in preference for a warmer environment − your house − leaving the DJ playing to only the rock−hard individuals who have had enough booze to ignore the cold.
Public venues
Check out this list of venues
Some locations in Tamworth are a definite 'awkward' for mobile discos; the Globe Inn − fast road, double yellow lines − parking on the adjacent car park only if you are very lucky; the Moathouse − tortuous route with dogleg stairs after fighting your way through the public bar; basically anywhere in the town centre as the parking facilities are atrocious for the entertainers vehicle and equipment carrying.
There are many fine venues in the area, take the Progressive Club as an example, it is a fine room although even here access to the rear of the club is often blocked by other vehicles making access to and from the room awkward if the car owner cannot be found.